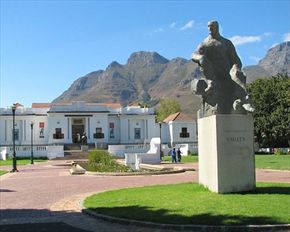 browse (1 / 7)
Many travellers throughout South Africa and the rest of the world have taken a particular liking to the elegant coastal city of Cape Town, which is predominantly famous for its endless stretch of pristine beaches. Cape Town is trendy, laidback, and glamorous, with a firm appreciation for the finer things in life. A favourite pastime for Capetonians is the fine arts with numerous art galleries in and around the city for ardent art lovers to explore and enjoy.
Amongst a long list of popular and well-known galleries is the William Fehr Collection in the CBD. William Fehr presents a fascinating compilation of historical paintings and commemorative pieces documenting Cape Town's social life and natural environment between the 17th to mid-19th centuries. Another prominent art gallery is the South African National Gallery situated in the stunning Gardens locale in the city's CBD. The gallery is the country's flagship art museum and showcases a breathtaking assortment of British, Dutch, French, Flemish, and local art. Another favourite gallery is found at the iconic V&A Waterfront and has fast become a popular haunt amongst local and international art connoisseurs.
The South African Art Collection displays a rare and original range of South African art along with an impressive assortment of African artefacts and bronze sculptures. To celebrate one of South Africa's genius artisans visit the museum honoured in her memory – the Irma Stern Museum in Rosebank. This museum is where the great Irma Stern lived for nearly four decades and displays numerous works detailing her progression as an artist throughout her lifetime. Cape Town is indeed a terrific destination for avid art fans who will find themselves mesmerised by the incredible art galleries and exhibits on offer throughout the city.