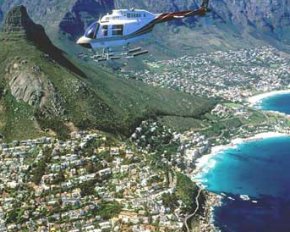 browse (1 / 7)
Flying in a chopper is akin to removing yourself from the real world for a short while and becoming a mere spectator. There is a certain feeling of superiority as you look down upon the busy little antís nest of activity from which you have just temporarily escaped. As the helicopter gains height for a full view of the Mother city, confined within the natural bowl formed by Table Mountain and the Atlantic Ocean, the workers fade to insect proportions. The biggest ships seem like bath tub toys.
There are several helicopter companies at the Waterfront Heliport .They all offer similar flights at comparable rates. The shortest and cheapest is a thrill-seeking 20 minute Atlantic Coast and Table Mountain spin costing R1800 with 3 Pax, then a 30 minute flight part way to Cape Point is R2700 with 3Pax, or a full one hour peninsular trip all the way down to the lighthouse at Cape Point and to Simon's Town will set you back R5400 for 3Pax.If you are a wine lover and donít want to drink and drive, why not charter a helicopter for a Wine route tour, R5400 / hr for 3Pax.
The flight of ecstasy is never long enough and the return to reality is inevitable. Nothing can beat the incredible view of Table Mountain, the Mother City and the stunningly beautiful Cape coastline .Why not take to the air for a touch of the high life and experience in full the awesome beauty of Cape Town.