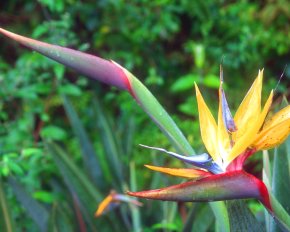 browse (1 / 7)
Kirstenbosch Gardens
is one of Cape Town's most treasured places. The grounds are immaculately kept and the atmosphere is of a heavenly nature. Guineafowl roam free and lush green surroundings with ponds and all sorts of different plants are your setting.
The ambience is unbeaten and many see it as the ideal place to have a picnic or to just take a quiet stroll. The keen botanist would have a field day and for the millions of city people out there it provides the ideal getaway from fast pace movements of the city.
Very popular on Sunday's is the Carols by Candlelight where music is played on the Kirstebosch ground.
There is also a shopping development at the base of Kirstenbosch which has a restaurant and sells various sorts of South African type curio products.
For more information visit the South African National Biodiversity Institute website.