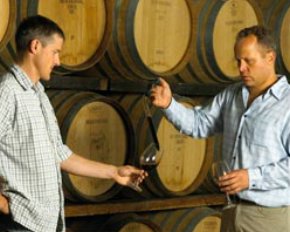 browse (1 / 10)
The Cape winelands are divided into various different wine growing regions, each offering their own wine route. The most popular and well-known wine regions were you can can enjoy wine tasting in Cape Town are Constantia, Stellenbosch, Franschhoek, Paarl, Robertson and Wellington. We have over 120 wine estates to choose from below.
Stellenbosch
is one of the best known wine regions and the first official wine route founded in 1971, home to a variety of cellars- producing some of the country's most acclaimed wines. The small town of Stellenbosch is a university town and the oak-lined Dorp Street is home to several museums and galleries as well as many student cafes, bars and restaurants.
Some estates worth paying a visit are Boschendal, Neethlingshof, Delheim, Welmoed, Delair, Spier and Saxenburg. Click to see our detailed list of Stellenbosch wine estates that offer wine tasting, wine sales, Stellenbosch wine farm contact details.
Constantia
Valley is located in beautiful surroundings with stunning mountain backdrops; the Constantia Valley boasts some of the oldest estates and homesteads along with award winning wines and restaurants. See Groot Constantia, Klein Constantia, Buitenverwachting, Steenberg Estate and Constantia Uitsig. Click to view our list of Constantia Wine Estates that offer,
wine tasting
, wine sales and contact details.
Franschhoek
valley was first settled over 300-years ago by the French Huguenots, it has many guesthouses, street side cafes and award winning restaurants demonstrating a truly French flair. Lying against the backdrop of the majestic Franschhoek and Drakenstein mountains, the town with its picturesque main street showcases antique stores and art galleries.
Thirty wine farms, including some of the most respected names, produce many of South Africa's top wines. All the noble cultivars and classic styles are on show here, most farms readily welcome visitors for tasting. Wine estates worth visiting include La Motte, Boschendal, Chamonix and Cabriere to name a few. Click to see our detailed list of Franschhoek wine estates that offer wine tasting or review each wine estate in detail below.
A number of other excellent wine farms can be found slightly further a field in the Paarl and Wellington areas. Diemersfontein , Rhebokskloof and Simonsvlei are recommended.
Paarl and Wellington wine estates
Franschhoek is a great place to spend a few nights away on a romantic weekend getaway, wandering the main street for bargains, visiting the wine estates and dining at one of its 8 top hundred restaurants in SA. To truly relax and unwind, consider spending a night or two at one of our many villas, guest lodges, B&B's and Boutique hotels. Below are all the estates in the Cape Peninsula where you can experience wine tasting in Cape Town. See our detailed list of Robertson Wine Estates
If you are a wine lover then a visit to the Cape Wine-lands is an absolute must as these regions of breathtaking vistas and majestic mountain backdrops will enrich your visit to the Cape. Rolling vineyards and quaint Cape Dutch homesteads await you, as well as award-wining wine farms offering some of the country's finest wines. Here are some useful tips to enhance your enjoyment of champagne or sparkling wine.
Some external wine resources
Want to get involved in the wine tasting community? Check out the Wine Tasting Association
To view fine wines for sale online you can check out WineCommune.com
For wine tasting tips and principles visit bettertastingwine.com