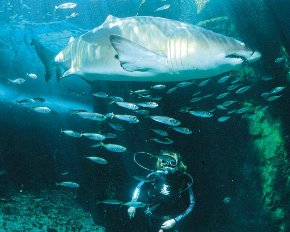 browse (1 / 4)
Taking the plunge in the Two Oceans Aquarium will guarantee an intimate face to face meeting with ragged-tooth sharks, giant short tail sting rays a turtle named Yoshi, kob, yellowtail and other predatory fishes. This is the best way to view the multitude of fish in the Two Oceans Aquarium in Cape Town, for a up close and personal fish eye view.
The Aquarium offers a unique and exciting opportunity to all qualified scuba divers to dive in the Aquarium's two main exhibits, the I&J Predator Exhibit and the Kelp Forest. This is an adventure which is not likely to be forgotten in a hurry. The adrenaline starts flowing before you even enter the water. What makes this so incomparable with diving in the open sea is that you know the sharks are there and that you are going to see them and get close to them.
If sharks are not your game, there is an equally thrilling dive opportunity in the Kelp Forest Exhibit. It is one of 3 kelp forests on display in the world and certainly ranks as one of the best. It is a typical representation of the west coast of South Africa. The Kelp Forest Exhibit is home to red roman, red stump nose, galjoen (the national fish of South Africa) and white stump nose amongst others. Feeding the fish is extremely exciting as the fishes swarm around you, clamouring for food. For this amazing dive, you have to have an advance qualification.
The Two Oceans Aquarium is located in the Victoria & Alfred Waterfront. The east side of the building is adjacent to the Robinson Dry Dock, the oldest operating dock of its kind in the world. Prices are R450 without gear and R350 with your own gear. This is a wonderful way to get a fish point of view.