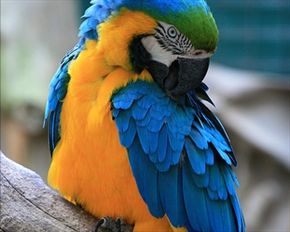 browse (1 / 2)
The city of Cape Town is a favourite destination amongst nature fans with the World of Birds in Hout Bay being a particularly sought after attraction. With so many natural spectacles to behold, visitors to this illustrious and enthralling city are certainly in for a treat as the World of Birds guarantees to be a very rich and rewarding experience. Situated within the heart of Hout Bay, the World of Birds is ensconced in breathtaking natural scenery with the views of the surrounding vegetation and foliage making it one of the city's most aesthetically attractive enclaves.
With a staggering assortment of over 3000 different bird species, the World of Birds in Hout Bay is the largest bird sanctuary of its kind found anywhere on the African continent. The aviaries and walkways here allow visitors to gain close access to the likes of owls, parrots, cranes, and eagles ensuring your excursion is an intimate one. It goes without saying that if you're an avid bird watcher or a teacher in need of the ideal estuary to take your class to, the World of Birds is perfect for you. Indeed, many schools throughout the Mother City arrange class field trips to this facility as it offers a uniquely educational and enlightening experience for kids of all ages. Here, children will be able to not only see a myriad of different species, but also gain new insights into them and their habitats, and be able to watch them interact in a natural environment.
Another factor that makes the World of Birds so special is that this birding paradise takes in injured birds and rehabilitates them to full health; the facility also has a renowned breeding program, which has won acclaim throughout the world. Whether you're a Cape Town resident or visiting for business or pleasure, an afternoon spent exploring and perusing the magnificent World of Birds in Hout Bay guarantees to be a memorable excursion.