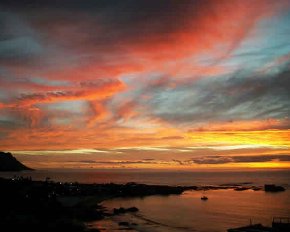 browse (1 / 4)
Watching the spectacular sunset from a marvellous yacht, is one of those exhilarating moments in life that one remembers forever. Here in Cape Town, there is no better place to watch the African sunset, than Clifton beach.
Clifton's four amazing beaches form part of Cape Town's Golden Mile and are probably among the most beautiful beaches in the whole world. Only massive granite boulders and natural rocks separate them, and with the mesmerizing Twelve Apostles as their background, this is a truly Mediterranean beach paradise in the heart of Southern Africa. What makes it greater is that they are sheltered and within a short driving distance from the city centre. So if you want to get away from the hustle and bustle of the city, and even the crowds on the beach, these luxury sunset yacht cruises offer a haven and a totally different perspective of the Cape Town coastline and the whole city in general. Camps Bay, Sea Point, Mouille Point, Signal Hill, Lion's Head, Table Mountain and Robben Island are only some of the sights that you will be able to enjoy from the comfort of these first class yachts.
So, whether you're in love, on a business trip and in dire need of relaxation or vacationing with a group of friends, book one of these sunset cruises and take in the amazing sights while sipping on some of the best local wine, champagne or beer. There will also be snacks and cold rinks on board. And if you are interested, our expert guides will even be able to tell you something that you never knew about this wonderful, yet treacherous coastline of The Cape of Good Hope. Don't forget your camera as it will be impossible to describe this experience to the folks at home-it must be seen to be believed.