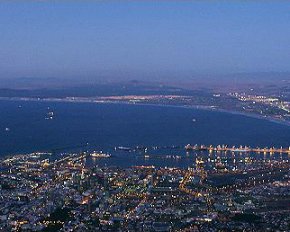 browse (1 / 2)
For those who have not lived in Cape Town and wondered about what caused the bang at noon, head for Signal Hill and relive history. The origin of this local custom is explained at the harbour clock at the V&A Waterfront. Originally, the cannon were shot at noon as a time-check, but in 1798 this nearly set Cape Town on fire. Later time balls were set off at noon to enable ships to check their chronometers so that they could carry out navigational calculations at sea accurately.
The Observatory then took to shooting a pistol at noon to alert those ships that couldn't see the time-balls, and eventually the cannon were fired. Moving the gun to Signal Hill where it's been since 1902 perhaps recalls another Cape Town tradition, whereby a watch on Signal Hill would run to town to warn of approaching ships so that farmers could bring their wares to market.
Before you check your watch by the gun, remember that sound takes 3 seconds to travel 1 km, meaning that if you hear it in Observatory or Canal Walk, it'll be 18 or 20 seconds after detonation.
There is one exception to this rule regarding the firing of the noon gun on a Sunday and that is he racwhen the Gun Run, which is an annual half marathon, takes place in the city. The race ends at 12 noon, the gun gets fired signaling to those that have not crossed the finish line by the time of its booming that they have not completed the race in the pre-requisite qualifying time. The gun also had another part to play in Cape Town's history during the 2nd world war, when it was fired all the citizens of Cape Town would stop, take 2 minutes of silence and reflect on those who had died during the war.