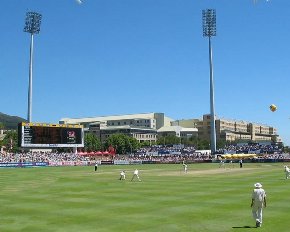 browse (1 / 10)
Newlands is 20 minutes away from Cape Town CBD in the Southern suburbs, it is home to the Newlands Oval cricket ground and the Newlands rugby stadium. The rugby stadium currently has a seating capacity of 50,900. The first official rugby match was played at Newlands on Saturday 31 May 1890 when Villagers played against Stellenbosch.
Newlands Rugby Stadium has hosted 13 South African Test Matches since unification in 1992, with 9 out of the 13 matches going in favour of South Africa. During the 1995 Rugby World Cup, Newlands hosted the opening ceremony and first match against Australia. The Springboks went on to win the tournament. The home team is called the " Stormers" (after the Cape of Storms).
South Africa also played several world cup cricket matches at the Newlands Oval in 2003. If you have never been to a live rugby or cricket game before, seize this opportunity, go and experience firsthand the adrenalin rush, noise, energy and excitement.