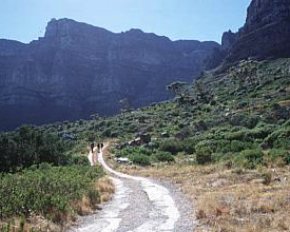 browse (1 / 4)
There are many different routes that can be taken to the top of the mountain.
Perhaps the most popular of them is to start off at Kirstenbosch and walk up either Nursery Ravine or Skeleton Gorge. These trails demand a minimal level of fitness - the top can normally be reached in about 6 hours.
Weather on the mountain can be unpredictable and care should be taken to accommodate for both warm and cold weather. Warm tops and suncream, though mutually exclusive, are a must.
The top of the mountain offers a lovely place to rest after a long walk. There is a restaurant and various curio stores, as well as a pay-to-view telescope which adds clarity to an enormous view. This view is unparalleled and allows one to view both the Indian and Atlantic ocean as well as a substantial amount of Cape Town.
When departing, one can either walk back down the route which came up or take the Cable Car down. The latter is normally more appealing since the length of the trail could dictate some walking with no daylight - a highly dangerous option. Of course if the Cable Car is taken, plans must be made to facilitate transport on your arrival at the base of the Cable Station.