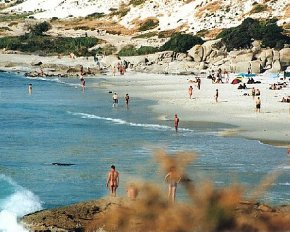 browse (1 / 1)
Sandy Bay lies some 18 kilometers from the center of Cape Town and can be reached by a winding, scenic road that follows the Twelve Apostles Mountain through the upmarket suburb of Llandudno.
This unofficial nudist beach is backed by steep dunes and mountain slopes. The only way to get there is a 20 minute walk from the car park through the indigenous Cape fynbos vegetation. Wooded walkways have been built in some places to protect the vegetation and make things easier for visitors. Sandy Bay beach area comprises a number of beaches inter-spaced with massive granite slabs. Both are popular for nude tanning or swimming, although the latter is not too popular an activity as the water of the Atlantic Ocean can be pretty cold sometimes.
Dolphins and seals can still be seen surfing in the waves and the breeze still cools the bay in the late afternoon as the sun sets on what is Cape Town's naturist jewel since time immemorial. The soft, white, sandy beach is a favourite sunbathing spot for the naturalist seeking an all–over tan.