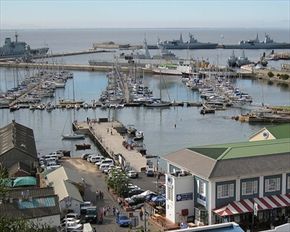 browse (1 / 2)
The coastal enclave of Simonís Town is indeed a favourite locale amongst resident Capetonians as well as travellers from other parts of South Africa. Beautiful, tranquil, and charming, Simonís Town is not just your typical seaside hamlet Ė it is steeped in history and is a fascinating visit for all avid historical buffs. Located along the banks of the majestic False Bay coastline, Simonís Town is a renowned South African naval base that was initially utilised by the Royal Navy and is now used by the South African Navy; additionally, it welcomes many people wanting a chance to frequent its captivating Naval Harbour.
The Simonís Town Naval Harbour is not a particularly good natural harbour and is protected against swells by a breakwater that was built using numerous sandstone blocks that had been quarried from the face of the mountains that hang above the coastal suburb. The views from the harbour are nothing short of breathtaking and literally enthrals all who frequents the area. One of the main reasons people visit the naval harbour is so that they can explore and discover the many delights of the magnificent Simonís Town Naval Museum. The museum is situated in the original Dockyard Storehouse and is a fantastic tribute to the history-laden legacy this naval base has become famous for. The museum and naval harbour are immensely popular amongst keen followers of naval ships and submarines, but is even a fascinating visit for those that havenít taken an interest in this kind of hobby before.
While Cape Town is home to a multitude of fun-filled activities, visitors would do well to make a trip out to Simonís Town and enjoy the activities that the naval harbour is known for. This excursion is indeed ideal for each member of the family and is pretty enlightening and educational too.