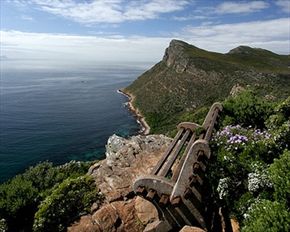 browse (1 / 2)
It has been said that a visit to the illustrious city of Cape Town is incomplete till you have visited the breathtaking and magnificent natural marvel known as Cape Point. Cape Point is located along the city's resplendent Atlantic Seaboard and is one of the most jaw-dropping and spellbinding natural locations on offer anywhere in Cape Town; it is also where the two oceans of the Atlantic and Indian meet. Cape Point was first discovered by the Portuguese explorer Bartholomeu Dias and it was his exploration and the ones that followed that led to the establishment of the pivotal Cape sea route.
Aptly named the 'Cape of Storms' by Dias, visitors to Cape Point will get a first hand look at the many shipwrecks and stone crosses on display that have resulted from the treacherous and challenging conditions found along this sea route. Besides the shipwrecks, which are quite fascinating to many visitors, the other major attraction here at Cape Point has to be Cape Point Lighthouse. The Cape Point Lighthouse has a range of 63km and is the most powerful lighthouse found anywhere along South Africa's coastline. To get to this lighthouse, visitors can hop on an eco-friendly funicular vehicle – the only one of its kind in the world – that travels directly from the parking lot to the site just below the lighthouse.
Other noteworthy attractions at Cape Point include the Global Atmosphere Watch Station and the Buffelsfontein Visitors Centre. The Global Atmosphere Watch Station is a permanent and important research laboratory that monitors the long-term changes of the earth's atmosphere and how it can impact on issues such as climate change. The Buffelsfontein Visitors Centre is a must-stop before your Cape Point expedition begins as the centre is a rich and vibrant information exhibition of the area's various natural and cultural facets. After you have enjoyed exploring and perusing this unrivalled piece of Mother Earth, the sumptuous Two Oceans Restaurant with its sweeping views of False Bay promises to satisfy your appetite and quench your thirst.