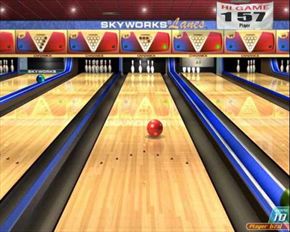 browse (1 / 3)
Cape Town may be well known for its beautiful scenery, but it also offers something for everyone. Ten-pin bowling can offer you an entertaining alternative to all that outdoors stuff. The competitive game of ten-pin bowling is as mentally and physically challenging as is as just plain fun! So why not try your hand at an internationally popular game which will test your concentration, stamina and skill - all in a safe, friendly environment! It's very affordable and can be enjoyed by absolutely anyone; from family and friends, to couples and kids, even for birthdays, work functions and team building.
Ten-pin bowling is easy; here's a quick lesson:
A game of Ten Pin Bowling is divided into ten rounds (called "frames"). In a frame, each player is given two chances to bowl and knock down the pins. He or she rolls the first ball at the pins. Whatever pins are knocked down are counted and scored. Then the player rolls a second ball at any remaining pins. In the event that all ten pins were razed with the first ball (called a "strike"), the player receives points and a bonus, and play passes to the next competitor. A player has no more than two balls to play in each frame, so even if he or she fails to knock over any pins, after having taken two shots, play passes to the next competitor. The ten pins are usually automatically set by machine into a triangle with four pins in the back row, then three, two, and finally one in the front, at the centre of the lane.
Cape Town has 3 major bowling alleys all located in different areas; Stadium-on-Main in Claremont, Tygervalley Centre in Tygervalley and Grand West Casino in Goodwood. All facilities offer bowling shoes and colour-coded bowling balls to match your strength and skill. To make it easy for the kids; side bars can be pulled up to protect the ball from rolling into the alley… so even the kids can get a strike! Above each lane is a computer which monitors your score and keeps track on who's leading the pack! Most of the ten-pin bowling facilities in Cape Town also offer a bar and restaurant too.
All in all; ten pin bowling in Cape Town is a fantastic day or night out… make sure to obey the rules and adhere to the bowling etiquette and you are sure to enjoy!