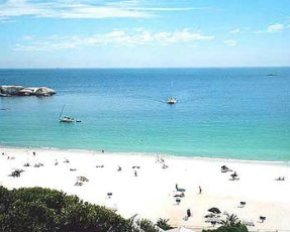 browse (1 / 5)
Clifton is blessed with four of the most beautiful beaches in the world and is one of South Africa's most popular and sought-after holiday destinations. It is situated on the West Atlantic side of Cape Town ten minutes from the city. Clifton is made up of 4 coves, the snow white beaches are called 1st, 2nd, 3rd and 4th beach.
In summer, when the Cape doctor / south-easterly wind blows, Clifton beaches become the most popular because they are usually well sheltered from the SE wind. Parking is very limited so plan on getting to the beach early or take a taxi. You can rent deck chairs and umbrellas and buy light snacks from vendors that wander up and down the beach. Swimming in the icy cold Atlantic at Clifton is the most exhilarating and rejuvenating experience not to be missed.
Clifton 4Th beach has been awarded the converted blue flag, this European-based campaign measures beaches against strict environmental, tourist and safety standards. It was founded in France in 1985, established to set beach standards that take both ecological and social factors into account. Beaches are reviewed on a yearly basis. Generally 4th is the busiest in summer with good changing room and bathroom facilities.
Every Monday night during the warm summer months, Clifton's 2nd beach is taken over by African drum enthusiasts, capoiera players, fire - dancersí, belly dancers and those who want to picnic, relax and take in the action. Donít forget to take your sun block along with you.
If you looking for accommodation on the beach see Clifton Accommodation.