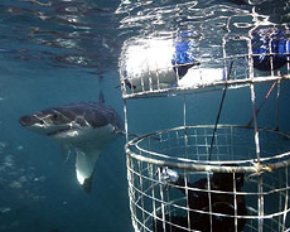 browse (1 / 6)
The launching slipway at Kleinbaai Harbour is the starting point of your Shark Cage Diving excursion to Geyser and Dyer islands. This is the entry point for all cage diving expeditions to the islands and becomes a hive of activity on clear mornings.
The trip takes about 4-5 hours. The boat leaves the harbour at around 8h45 and takes about 20 minutes to reach the channel between Geyser and Dyer islands. It normally takes about an hour of chumming and baiting before the first great white is spotted. A dorsal fin and part of the tail silently slice up through the water, leaving barely a wake, the ominous fins lock in on the boat.
The undisputed lord of the deep has arrived! Great White Sharks are the world's largest predatory fish, reaching over 6 metres (20 feet) inlength. The males reach maturity about 13 and the females at 20 years of age. Females may only reproduce twice in her life. Armed with a lethal mouthful of serrated, razor-sharp daggers and powerful enough to launch their 1-ton bodies clear of the water, they are the ocean's top predator and are the most feared denizen of the sea to both sailors and sea creatures alike.
When you come upon one of these magnificent creatures of the sea, you cannot help having a great amount of respect, and you will truly consider yourself to be among a very lucky group of witnesses. There's not many people in the Shark Cage Diving club.
Passengers may stand on the top fly-bridge of the boat to get an all-round view of the white sharks attacking, circling and descending. It is the ideal spot to capture the exhilarating action on film or shoot video footage.
Great whites can smell the chum slick (crushed sardines) from a considerable distance. The shark, being an inquisitive beast, often comes right up to the boat, bringing its head far enough out of the water that you can touch it. The banks of awesome razor edged teeth are but centimeters away - the huge gaping jaws revealing the true danger of the imminent encounter. Shark Cage Diving is truly an awesome experience and a must on the 43 things to do list. Shark Cage Diving