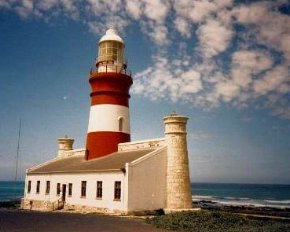 browse (1 / 2)
Cape Agulhas is about two hours drive from Cape Town. Contrary to popular belief, Cape Agulhas and not Cape Point is the southernmost tip of Africa. The seas around Cape Agulhas are very treacherous and have caused numerous shipwrecks, the Cape Agulhas Lighthouse was built in 1848 to help reduce the fatalities. It is the 2nd oldest working lighthouse in South Africa and was declared a national monument in 1973.
The first European man to set foot on Cape Agulhas was Bartholomew Diaz who in 1488 raised a Cross to mark his landing here. The light house is used in combination with a radio transmitter to warn ships not to come to close to shore. The warm Agulhas Current and the cold Benguela Current meet somewhere between Cape Agulhas and Cape Point. Visitors who climb the narrow ladder to the top of the light house are rewarded with a panoramic view of the Indian ocean.
Take a photo of Diaz Cross and show your family and friends that you have stood on the southernmost tip of Africa.