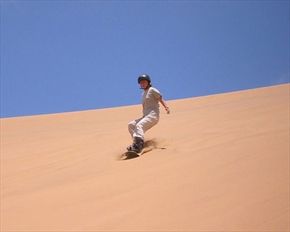 browse (1 / 2)
Sandboarding has steadily started gaining a cult following amongst the many citizens of the world: it is fun, it is novel, and it is exciting offering thrill-seekers a new fix when it comes to adrenaline rushes. The scintillating city of Cape Town is undoubtedly South Africaís premier destination and when it comes to sandboarding, the Mother City comes up trumps once more. Sandboarding is perfect for all ages and can be used for anything from a corporate team building event to a birthday party; no prior knowledge or experience is required making the sport quite an enticing prospect.
When in Cape Town, most sandboarding operators opt for the Atlantis Dunes, approximately a 40 minute drive outside of the city, because its numerous sand dunes can cater for both novice boarders as well as more seasoned pros. Furthermore, the Atlantis Dunes is a top film location and boasts breathtaking scenery as well as an unrivalled idyllic atmosphere. Most Cape Town-based sandboarding companies offer customers special package deals that include full training, all the correct equipment and safety protocols, transportation to and from the venue, and lunch. Clients, additionally, have the choice of going for a whole day or half a day depending on their needs, while some companies also offer tandem deals that include going surfing, sky diving, or quad biking.
Sandboarding is impossibly fun and guarantees an irresistible adrenaline spike that will keep you coming back for more. Enjoyed by many around the world, this extreme sport has seen its popularity rise markedly in South Africa and promises to only get bigger and bigger. Itís the perfect way to enjoy the natural delights the city of Cape Town is famous for, but it is also a terrific opportunity for you to let your hair down and take a break from the stress and strains of modern day life.