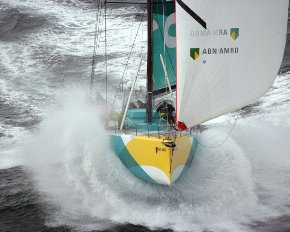 browse (1 / 14)
The 3500 nautical mile South Atlantic crossing called the Cape to Bahia yacht race is one of yachtings greatest challenges. This annual event formally know as the Cape-to-Rio is held in early January. The finish is at the sizzling city of Salvador, capital of the state of Bahia in Brazil. Royal Cape Yacht Club located in Cape Town is a hive of activity as crews get busy with final preparations for the start of the Cape to Bahia yacht race.
Annually about 30 yachts enter this blue water classic, which starts in Cape Town in January and finishes in Salvador, the capital of the state of Bahia, in Brazil. Watch out for some awesome action at the starting line just off the harbour breakwater, the fleet will then pass two compulsory marks off the Granger Bay and Mouille Point before heading north past Robben Island.
Competing yachts will span the spectrum of ocean-going vessels ranging from the miniature 6.5m mini-Transats to luxury multi-hull catamarans and hi-speed racers. The mini-Transats will be sailed single-handedly and has been allowed in the race for the first time. The record crossing time for the Cape to Rio race was set in 2000 by the 75-foot American maxi Zephyrus with a time of 12 days 16 hours 49 minutes. If sailing is your passion then go find a crew position on fast yacht and try your hand crossing the Atlantic in the Cape to Bahia yacht race.