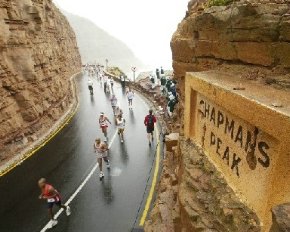 browse (1 / 2)
The Two Oceans Marathon is run on the Cape Peninsula against a backdrop of Table Mountain, the world famous landmark at the southern tip of Africa. The race is run over a distance of 56 km and is held over the Easter Weekend.
The first Two Oceans ultra marathon was run in 1970, a race which over the past three decades has grown to the second largest in South Africa, boasting some of the most spectacular scenery of any road event in the world. The entry fee for the first Peninsula 35-miler, as it was called (the course was actually 36.5 miles), was 50 cents. The route traversed Chapman's Peak Drive, from where runners have a magnificent view of the Atlantic Ocean below, dropping down to Houtbay at sea level. This bone-jarring descent is just before the 40 km mark, it then ascends to Constantia Nek before gradually losing elevation again to the finish.
This route, with some minor changes, has been used ever since. If running is your passion then join about 13500 other runners on this epic 56km journey around the Mother City. Set yourself a target time of 3:30 minutes, finishing this race is a wonderful achievement.