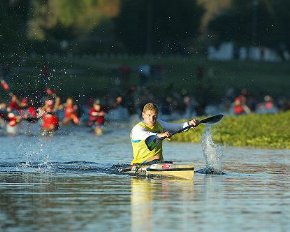 browse (1 / 4)
Feel on top of the world as you paddle in one of Southern Africaís most exciting canoe marathons, The Berg River Canoe Marathon. Set in one of the most beautiful parts of South Africa, this is one endurance race that you simply canít miss. Combine a relaxing holiday with a sports trip as you take part in what will certainly be a once in a lifetime experience. It is during the rainy winter season in July that adventure seekers and canoe enthusiast from all over the world gather to take part in this thrilling competition.
The majestic Berg River flows between the beautiful little towns of Paarl and Wellington-famous for their world-class wine farms. The Berg Riverís long course actually starts in the mountains of Stellenbosch, passes through Paarl, Wellington, Gouda and Piketberg and eventually spills into the Atlantic Ocean at Velddift. The amazing natural scenery alone makes it worth taking part. This marathon is for the serious contender and the social contestant alike.
This challenge is definitely not for the faint hearted or the couch potato as you will cover a distance of 210 kilometers in about 4 days-that is about 50 kilometers per day! Youíll test your skill and endurance to the brink as you navigate through the narrow waterways, and around trees and branches. Feel the adrenaline pump and your joy overflow as you finish another leg of this exhilarating race. Over 200 contestants take part each year and they all agree that this is one of the most memorable canoe races they have ever had the privilege of taking part in.
So take part in this world renowned canoe marathon, and afterwards relax in one of the enchanting guest houses that this delightful region has to offer.