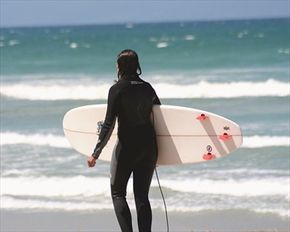 browse (1 / 2)
The Western Cape is blessed with a myriad of beautiful and outstanding beaches making it not only a premier vacation destination, but also a hot spot when it comes to a wide variety of water sports activities. While surfing may be one of the oldest water pastimes known to the world, its popularity has never dwindled. Surfing is a serious pursuit in South Africa and this is none more evident than in the surfing paradise of Jeffrey's Bay. J-Bay as it is affectionately known hosts the world-famous Billabong Classic each year and entices a number of surfers from all corners of the globe looking to enjoy the fantastic surf found in this part of the Western Cape.
If you're serious about learning to surf, the False Bay beach of Muizenberg comes highly recommended as the best beach for beginners. Many surfing operators take their clients to Muizenberg because the gentle waves are ideal when it comes to introducing newcomers to this new and exciting world. Seasoned surfers can enjoy Muizenberg too because there are surfing conditions for them that suit their need for excitement and adrenaline rushes. The best surf training schools found in Cape Town follow the Surf South Africa accredited ABC surfing lesson plan with a beginner's lesson typically lasting up to 2 hours.
Learning to surf is a fun-filled and exhilarating experience. As the many who have learnt the ins and outs of this fantastic pastime can attest to, learning to surf not only opens your eyes to the majesty and breadth of the ocean, it also helps cultivate long-lasting friendships developed through a mutual love for this awesome water sport passion. It furthermore gives you the chance to soak up the incredible natural beauty the beaches of the Western Cape are drenched in.