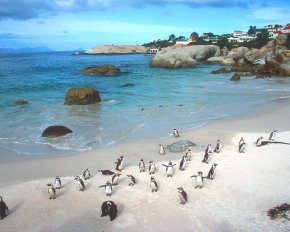 browse (1 / 7)
Boulders Beach
is situated just after the picturesque village of Simonsís Town. The beach has a healthy population of
Jackass Penguins
who have chosen the beach as their home and breeding ground due to the fact that there are fewer predators on this part of the coast.
Called the Jackass for the donkey-like braying sounds they make. Since 1985 the population has grown at a significant rate as the birds are feeding on the abundant supply of small shoaling fish in False Bay.
The protected area is a popular local attraction and is looked after by the Table Mountain National Park. There are walkways that enable you to view the penguins without disturbing them in their natural habitat. They are quite clumsy on land and ungraceful emerging from the water. In the sea, however, they are extremely skillful swimmers. They breed throughout the year, usually laying two eggs.