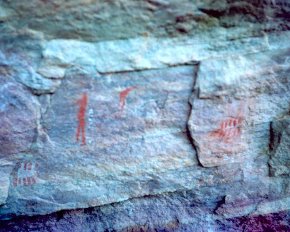 browse (1 / 5)
The Cederberg Wilderness is about 200-km north of Cape Town, stretching from the Middelberg Pass at Citrusdal to north of the Pakhuis Pass at Clanwilliam, encompassing some 71 000ha of rugged, mountainous terrain.
The Cederberg Mountains are part of the Cape folded formations, most notably the Wolfberg Arch and the Maltese Cross. The mountains fall within the catchments area of the Cape fynbos region, and are managed as a source of water. This remote, pristine area with its breathtaking natural beauty, which includes a large variety of 'fynbos' and dramatic rock formations, offers the visitor a unique wilderness experience.
Generally, only walking and hiking is permitted, but you can experience the rich biodiversity and cultural assets of the Cederberg from a traditional donkey cart. For unfit visitors there are there are some accessible places such as the Stadsaal Caves with their famous Bushman-Elephant painting.
Hundreds of rocky overhangs and caves can be found in the Cederberg, with great examples of rock art. These paintings can be anything up to 6 000 years old, and are very sensitive to damage. They are an integral part of the wilderness area's fascination and visitors should discover them for themselves. (The National Monuments act states and vandals who deface rock paintings face fines of up to R10 000 or two years imprisonment or both protect rock art).
The Fossils of the area are to be mostly found in the Bokkeveld Shales. The shales are a softer rock, which weather to form the fertile valleys, along which the Ceres – Cederberg – Wupperthal road is found. Winters in the Cederberg are cold and very wet, while summers are warm and dry. Most rainfall is between May and September, and it can snow in the higher parts. In winter, night temperatures drop sharply and heavy frost may occur. In summer temperatures may reach as high as 40°C. Permits for the trails are available from the Clanwilliam Tourism office, Algeria, Farm Dwarsrivier (Sanddrift) and Kromrivier.