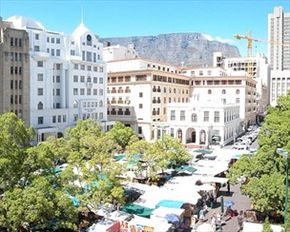 browse (1 / 2)
Greenmarket Square is a favoured and much-loved attraction for many Capetonians. Built in 1696 and originally used as a trading/market place for passing ships, Greenmarket Square has continuously evolved throughout the years making it one of the must-visit destinations for anyone who wants a closer look at the famously laidback way of life Cape Town is renowned for. Of course, the shopaholic in you shouldn't pass up this fantastic opportunity either as not only can you purchase a wide range of items such as arts and crafts, fabrics, clothing, sandals, jewellery and the like from just about any part of the world, the value for money on these items is also quite incredible making it immensely popular amongst bargain shoppers in particular.
While this vibrant and colourful flea market teems with life and activity, the cobbled stones upon which it is perched exude an old-world ambience, and if you close your eyes for a few moments you can almost imagine what shopping must have been like in the beginnings of its existence. The square used to be home to the city's first Burgher Watch House, which was built in 1761, and it was also used as the City Hall for a time; today, it houses the wonderful Michaelis Collection.
As it is situated between Short and Long Market Streets, patrons to Greenmarket Square will have easy access to a number of chic coffee cafés, delicious restaurants and snack bars, as well as a range of hotel and backpacker accommodations. If you find yourself in Cape Town and want to feel the pulsating energy the African continent is famous for, the Greenmarket Square and its irresistible liveliness is the ideal venue for you.