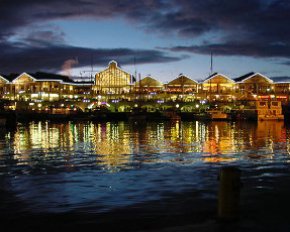 browse (1 / 4)
South Africa is really a shopping Mecca for locals and tourists alike, and in Cape Town the V & A Waterfront and Canal Walk is renowned for their successful blend of shops, restaurants and entertainment areas. So take a welcoming break from the sightseeing and tourist attractions and spend a wonderful day of shopping and entertaining.
The V & A Waterfront is very tourist friendly and situated in the heart of the Cape Town harbour. It is easily accessible from town, and there is even a walking path from the city centre to the shops. It is a very comfortable 45 min walk from the city centre, but there is also an open-top bus available for those that want to concentrate on the relaxing part of their holiday. It is advisable to take a taxi back to town as it might be dangerous at night. The Waterfront has some of the best shops, flea markets and restaurants in the whole country and the harbour setting makes it extra special. There is something for everyone, and the outside are with its many pubs and its big amphitheatre will provide ample entertainment for those not to keen on shopping. The Waterfront Marina and the Waterclub both offer excellent accommodation close to the V&A.
Canal Walk is situated next to the N1 and is about a 15-minute drive from Cape Town. It is one of the newest shopping centres in the country and the biggest shopping centre in the southern hemisphere! This is truly a paradise for shoppers, and there is a big variety of shops to go to, but wear comfortable shoes as you will be doing a lot of walking. The shops range from designer stores, to supermarkets, to arts and crafts. The food court is especially impressive with a huge large screen TV, so your male companions can watch that crucial sport tournament whilst you can go search for perfect gifts for the folks at home. Another great thing about this shopping centre is that you can spend the whole day there, as there is an exciting amusement park called Ratanga Junction, right next door!