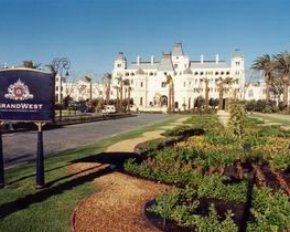 browse (1 / 2)
Grandwest
is a R1.5 billion entertainment complex recreating Cape Towns infamous past . The Casino in GrandWest has 1750 slot machines and 60 gaming tables offering roulette, Diamond Rush Black Jack, poker and punto banco. Surrounded by bars and restaurants, all open 24 hours a day seven days a week.
A recreation of the 1652 Fort of Good Hope will be home to a children's amusement park, offering everything from Barbie Doll World to puppet shows. Kids will also be able to enjoy go-karts and adventure golf. The fort is dwarfed by the Victoria tall-ship, which will form the backdrop for the annual GrandWest Cape of Good Hope International Tattoo.
First time gamblers can enjoy Grandwest's "Gambling Information Centre" for great instructions on how to play. The two ice-rinks are the centre-piece of our entertainment centre, which includes a fast-food court. Overlooking the food court is Anant Singh's new "Starz Cinemas" complex, which houses 6 cinemas. It has two hotels the Cape-Dutch City Lodge Hotel which has 120 rooms and the more stately Grand Hotel which has 40 rooms and is a recreation of the historic Cape Town Hotel. Grandwest is located on Vanguard Drive on the old Goodwood Showground's, just 15 minutes outside Cape Town, and can be fun for the whole family.
For accommodation at the Sun International Grand West Casino click on the link below to check availibilty.