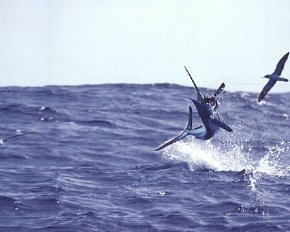 browse (1 / 9)
Cape Town, bounded by the Atlantic and Indian Ocean enjoys one of the greatest concentrations of fish in the world. Deep sea Big-Game fishing ranges from 10 to 40 nautical miles from land and is concentrated mainly on Yellow fin, Albacore (Long fin), Big eye Tuna and Swordfish but can also produce a giant Blue Marlin (Bill Fish) like Steve Makepeace, who landed a Blue Marlin of 627 pounds about 30 miles off Cape Point in the Canyon area in 2006. This magnificent Blue Marlin is a pending All African, South African, Western Province and Gordon's Bay Boat Angling Club record.
Shoals of game-fish are found in the warmer currents off Cape Point in the Atlantic ocean, the warm water in the deep attracts plenty of different kinds of bait fish like Pilchard, Anchovies and Saury. These fish attract the Marlin and Dorado and other types of warm water game fish making it ideal for deep sea fishing.
Marlin can easily be identified by the long bill, they are the fastest fighting fish in the ocean and can grow up to 1000 lb. They offer the most exhilarating and aerobatic displays and will tear 100ís of meters of line off the reel while jumping to rid itself of the lure. The Cape season for Marlin fishing is from February to April when the water temperature does not exceed 20 degrees C. Blue fin Tuna records where once broken monthly in Cape Town waters. Deep sea fishing is a must activity when on vacation in the Cape.