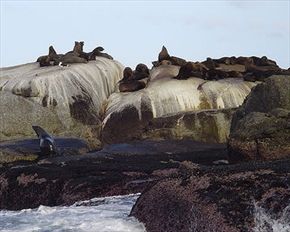 browse (1 / 2)
When you come to Cape Town you can expect to enjoy a myriad of amazing and diverse activities that will certainly mesmerise you and hold you captive throughout your sojourn. Seal Island is one of the city's most popular attractions and is particularly in high demand during the summer months when an influx of travellers from the north and abroad arrive to soak up the fantastic Cape Mediterranean climate. Seal Island is well loved by the locals and is a must-visit for anyone who enjoys animals and nature.
Seal Island is a tiny isle approximately 200m in length found a mere 6km off the shores of the northern beaches of False Bay. Appropriately named, Seal Island is home to large numbers of the Cape Fur Seals; because seal harvesting no longer occurs, fortunately, the numbers of these seal species have been on the increase in the last 20 years promising a real treat especially for the children visiting the island. The seals are not the only attraction on the isle though; patrons can enjoy the likes of the African penguin as well as a fantastic number of aquatic birds namely the White-breasted Cormorant and the Bank Cormorant. Seal Island is also prominent because the waters surrounding it are known to be infested with the Great White Shark, which happens to be the biggest predator of the Cape Fur Seal.
Enjoying a cruise to Seal Island is a marvellous experience as it not only takes you to the island to view these incredible marine animals, but also allows you the chance of savouring the breathtaking and undulating natural beauty this part of the Cape is blessed with. For the more adventurous among you, many tour operators that provide cruise boats to Seal Island also offer underwater cage diving for the once-in-a-lifetime opportunity of observing the Great White in all its resplendent glory.