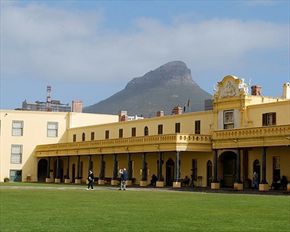 browse (1 / 2)
The city of Cape Town represents many things to different people. For those that love history, arts, and culture, a must-visit attraction is the magnificent Castle of Good Hope. The Castle of Good Hope is indeed one of the city's most famous attractions and continues luring guests from all parts of the country eager to savour a unique part of South Africa's vibrant and colourful history. Built between 1666 and 1679, the castle lays claim to being the oldest building in the country and has many fascinating stories emanating from within its walls.
The Castle of Good Hope was initially built by Zacharias Wagenaer as the Dutch feared an invasion on the Cape by the British. This masterful 5-poined stone castle would late become a national monument in 1936 and become the eclectic scene of military ceremonies, traditional food and fine wine, historical relics, and several pieces of craftsmanship. Visitors to the Castle of Good Hope can look forward to seeing the famous William Fehr historical artworks collection, ceremonial facilities for the traditional Cape Regiments, and the impressive Castle Military Museum.
Additionally, Good Hope is also home to the Western Cape's branch of the SA Army's military personnel, the prominent Kat Balcony, which is the outstanding feature of the dividing wall found in the inner courtyard, and the original Dolphin Pool – all high-profile points of interest for visitors to explore. Furthermore, the Castle of Good Hope features a church, bakery, offices, living quarters, and many other such amenities. Its open daily and promises a unique treat and surprise for its many visitors especially the intriguing changing of the guard that takes place from Monday to Friday at 12h00.