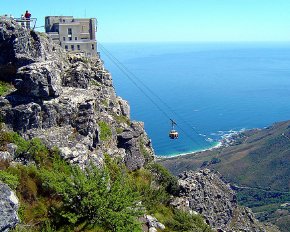 browse (1 / 8)
Over the centuries it has become one of South Africa's most famous landmarks. Since the first person laid eyes on Table Mountain, it has exerted its powerful and charismatic pull, enchanting and drawing any and all who fall under its spell.
The steep cliffs and rocky outcrops of the mountain play home to a number of plants and animals. Complimenting this vast array of flora, 1470 species of plants and a stunning range of fauna, some, like the Table Mountain, Ghost Frog, being found in no other place in the world. (If you find one don't tell anybody because they are worth a fortune)
In 1912 a engineer, Mr. H.M. Peter, suggested that a funicular railway running up from Oranjezicht through Platteklip gorge would be the most suitable option. A vote was held with the vast majority of Cape Town's residents voting in favour, but it was delayed by the outbreak of the First World War (1914 - 1918).
The plan was resuscitated in 1926 by a Norwegian engineer, Trygve Stromsoe, who presented plans for a cableway. The plan caught the collective eye of a group of local businessmen. The idea that an easy route up would finally become a reality drew them together, forming the Table Mountain Aerial Cableway Company (TMACC).
Table Mountain and the cableway has since become something of a landmark and a must do when in Cape Town ,it has carried some of Cape Town's most illustrious visitors, including King George VI and Queen Elizabeth II, as well as Oprah Winfrey, Sting, Stefi Graf, Arnold Schwarzenneger, Magaret Thatcher, Prince Andrew, Brooke Shields, Micheal Buble, Tina Turner, Jackie Chan, Dolores O'Riordan, Ric Meulemans, Skunk Anansie, Paul Oakenfold and Micheal Schumacher.
Donít forget to view our live webcam images at the top of Table Mountain before going up the cableway; this will help you decide which clothes you need to wear. Webcam Gallery.