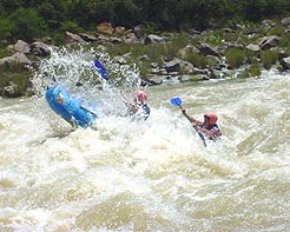 browse (1 / 4)
Adventures tours in Cape Town, experience the best outdoor extreme sports and adventures in Southern Africa , extreme or amazing outdoor experiences. There are water sports, land safaris and air activities combined into the ultimate extreme sports adventure tours. South Africa a world in one country, combine your favorite extreme sport, be it coral reef scuba diving, shark diving, kite boarding, white water rafting, paragliding or downhill mountain biking, with an adrenaline pumping variety of other outdoor adventures like a Big 5 safari, or power kiting, rock climbing and abseiling.
Paragliding or Sky Diving tours:
Sky Diving is pure adrenaline. The tension raising with the plane, the cold sweat when the door open, the almost impossible leap followed by the howling wind as you reach terminal velocity, the upward jerk as the chute opens and immediately the silence as you slowly drift down to safety.
Paragliding on the other hand, is the the ultimate freedom and great views. Flying the thermals created by the stunning mountains below you to maximize air time, soaking up the scenery from high above giving new meaning to the saying "bird's eye view".